For fast food outlets, cafeterias, food concessions, delicatessens, bars, convenience stores and more... the affordable Samsung ER-5100 provides the gateway to system features with standard RS-232C communications
Compatible with popular RS-232C options
2 station, 9 pin bi-directional dot-matrix printing
1,000 price look-ups (PLUs) with inventory
Flat, spill-resistant keyboard
117 programmable keyboard PLUs
Table management function
15 programmable cashiers
Five macro keys
12 character PLU, function key, group and clerk descriptors
21 character, 6 line programmable receipt message
Programmable management controls
Download the ER-5100 Brochure in PDF.
Click here to order the ER-5100 Online.
---
ER 51 Software
The ER-5100/40 PC Utility software efficiently transports point-of-sale data from your Samsung ER-5100 series ECR to your personal computer. Let the ER-51 series PC Utility software take over when point-of-sale requirements become more demanding, or, when you need to quickly communicate critical financial and sales data from a remote store location.
Download the ER 51brochure in PDF.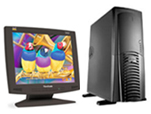 Authorized dealers for Intel, RMS-Touch, Comcash, Samsung, CRS, BenQ & SMC